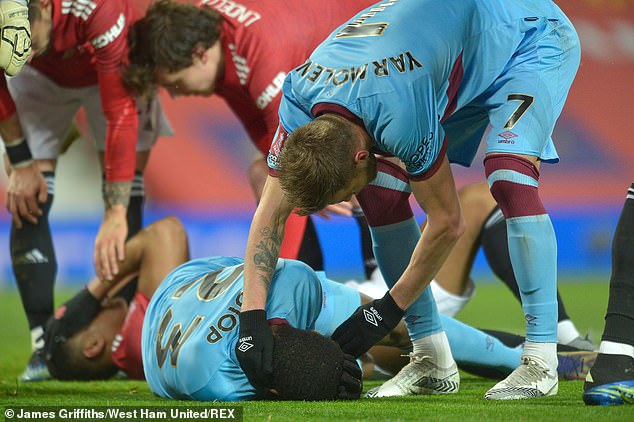 West Ham manager David Moyes has backed his medical team for how they handled Issa Diop injury following his clash of heads with Manchester United forward Anthony Martial on Tuesday in the FA cup fifth round draw at Old Trafford.
The defender has since been checked again by club doctors and found not to have had concussion.
"My medical team took the right action," said Moyes.
"It was a tough one because we were short of players. But Issa had a bump on his head, which was a bit of an egg so we took him off. Interestingly, Anthony Martial played on.
"We felt we did the things which were the best for our player."
Ogbonna became the first player in English football to be substituted for potential concussion since new regulations were bought in and that have bought a certain level of scrutiny.
Leading brain injury charity Headway criticised new protocols put in place for the use of concussion substitutes calling them "deeply flawed" after the incident.
"He didn't have concussion and he doesn't have concussion," said Moyes. "The tests have all come back clear.
"I am sure not every head knock should lead to concussion or a big discussion about it. It is a little bit in fashion that people are bringing it to attention.
"From what I have seen the medical team have handled it very well."
The centre back is expected to be declared for West Ham's game against Sheffield United on Monday and Moyes will need to chose between Fabian Balbuena and Issa Diop as to who replaces lines up along side Craig Dawson instead of Angelo Ogbonna who is out for up to four weeks with an ankle injury.