David Moyes' position as West ham boss this season and next remains under the keenest scrutiny and later today we will be publishing the result of our poll on whether fans think he's the right guy for the job in 1920/21.
In the meantime reegular CandH Facebook follower Richard Di Bona gives a well considered view on where he thinks the club should go on what maybe a prickly problem.
By Richard Di Bona
It's not a simple yes/no for me
If he was a fit for West Ham he shouldn't have been allowed to leave last time around.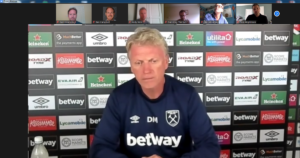 I don't think his typical style suits West Ham and I also think we should have bigger ideas but let's not be duped by an over-hyped footballing fraud as was the case with Pellegrini
Better stick with Moyes than risk Pellegrini version 11.
Also bear in mind who else we could realistically attract especially if Moyes were chopped again at season's end – following reassurances if his future has already been given.
As a result  decent up and coming managers / those breaking through now, would be rightfully put off joining.
So in conclusion:
I am still not convinced that Moyes is the RIGHT manager for West Ham
But I think we need to stick with him next season (assuming we stay up)