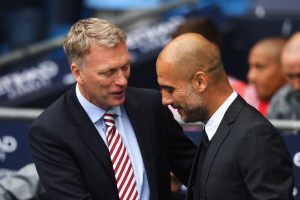 David Moyes admits he's facing the toughest job in the world in planning for a win over Manchester City but absolutely no stone is being left unturned as he goes for it.
And in a relatively in depth interview with the official site he has made it clear that it will be impossible to achieve it with one formation.
He said: "We'll do our best to make it as hard as we can for them, as when we make it hard for them they'll do something else because of the quality they've got."
He added: "We do lots [of preparation work] on all the teams, not just the big ones, but tactically you have to change and you have to have in-game changes, it might be small and unnoticeable – it could be slightly adjusting someone's position.
"I don't think you can play Manchester City with one formation. You probably need to have two or three formations through the game because if you find a way to stop them or work them out they'll overrun it. So once they do that you've got to find a way to stop what they're doing, you have to change that as well.
"That's what the good teams and good players do to you, they're not going to allow themselves to be easily stopped, there's a lot more in game changes I think with football than what there has been before."
"We train the players without the ball a lot, because we're not [going to be] with the ball a lot so at West Ham we're not with the ball all the time.
"I would like to be with the ball a lot more, because it means the opposition are running and I actually think our form has shown that our play has been a lot better and I hope we can show that on Sunday.
"Even against the big teams, there is not a team where Manchester City haven't completely dominated the game, there's not a team where they've not had the possession or chances. For anybody to think that we are going to have, that would be naïve.