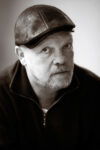 By CandH's new staff blogger Simon Leyland
Is it to soon to start the David Moyes post mortem I wonder? Nevertheless, it may be helpful to look at his most recent signings and see if we can glean any clues as to their contribution to our current plight.
Daniel Rigge (MF) – Man City
A 16 year old potential wunderkind plucked from the obscurity of the Manchester City youth team and currently plying his trade for our under 18 side. He has yet to pull up any trees with a solitary goal in 12 appearances. A work in progress?

Nayef Aguerd (CB) – Rennes
The 6 foot 3 Moroccan international did not have the best of starts getting crocked in a friendly against Rangers. After surgery he returned against Silkeborg in our European adventure. Moyes seems to keep playing him on the wrong side . Still seemingly finding his feet in the hurly burly of the Premiership, some of his distribution is a big positive but still prone to soppy mistakes. I think we will see the best of him when he is finally partnered with our favourite ailurophile Mr Zouma.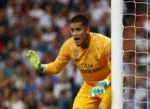 Alphonse Areola (GK) – PSG
Our £12m goalkeeper, the heir apparent to Fabianski has been used very sparingly this season. Only 12 appearances and a paltry two in the Premiership. You would have thought that due to Fabianski`s age, it would make sense to perhaps rotate their roles as opposed to relegating him to "the Cup keeper".
Patrick Kelly (MF) – Coleraine
A battling midfielder according to his old boss at the Irish club Coleraine, has played exactly one minute in the Premiership. Presumably part of a Moyesian cunning plan to unleash him later in the season.

Flynn Downes (MF) – Swansea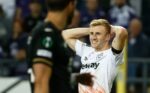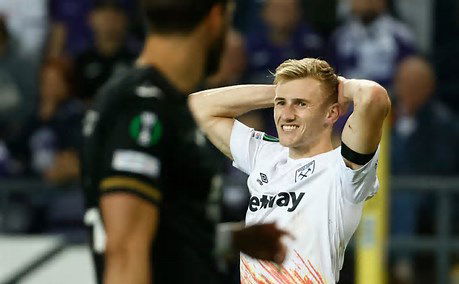 The 23-year-old joined the Hammers from Swansea City for around £14 million in the summer transfer window . He must have reallyannoyed the Moyesiah as, he has been unable to establish himself in the first-team . For reasons only known to himself Moyes has given Downes only three Premier League starts and during all three of those games, Moyes decided to utilise Downes as the more advanced central midfielder which. is odd as Downes is an archetypal defensive midfielder. He is at his best when breaking up the opposition's play and moving the ball on to his more technically gifted teammates.
Initially I thought he was going to be eased in as a potential replacement for our favourite potato salad eating Czech, Tomas Soucek, who unfortunately is a shadow of the player he was.
Gianluca Scamacca (Str) – Sassuolo
Acres of print has been devoted to the travails of our £35 m striker.
It appears that Moyes originally saw Scamacca as an old fashioned poacher (a la Pop Robson for our older readers)
It is blindingly obvious that the poor nloke stands very little chance of getting the tap-ins Moyes wants in this current way of playing.
Because according to football analysis experts The Other 14, West Ham had the fewest touches in the opposition penalty area of any side outside the "big six" – who incidentally all were streets ahead of the Irons sad looking 11
Brighton and Leicester had the most with 25 – more than double that of West Ham. The next lowest was Brentford with 13.
If Moyes wants the Italian to have a chance of scoring more tap-ins, his team must be getting the ball to him in and around the box a lot more often. Eleven touches in the opposition penalty area in one game is simply not good enough.
Callum Marshall (Str) – Linfield

Signed from Linfield, the 17 year old has already scored nine goals in eight games for the Under 18`s.
Too early to say I suppose, but a decent prospect.
Josh Briggs (CB) – Linfield

I wonder if Moyes had a " buy one get one free" arrangement with Linfield? Any way young Briggs is a doughty centre back currently playing with his mate Marshall in the Under 18`s.
Max Cornet (Mf/Fwd) – Burnley
The Ivory Coast International appeared to tick all the boxes upon his arrival at the London Stadium, finally a swift, left footed winger… but after only a handful of games he has retired to the physios room seemingly never to be seen again.

Thilo Kehrer (CB) – PSG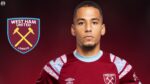 They say a team is only as strong as its weakest link. And at West Ham that is without a shadow of a doubt the fullbacks. Keher was supposed to come in to add some much needed steel to the backline, but sadly it is not working. According to various European football websites, Moyes is playing him out of position ( I would never had guessed !) as he prefers to play as a right back. Whether it is the unfamiliarity of playing out of position that has led him to some dreadful mistakes, who knows?
Emerson Palmieri (LB) – Chelsea
The 28 year old left back has played only eight games this season. He only seems to appear when Moyes uses a three-at-the-back system or if there is an R in the month. A talented player who deserves a run in the side.
Lucas Paqueta (AM) – Lyon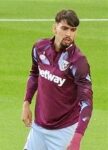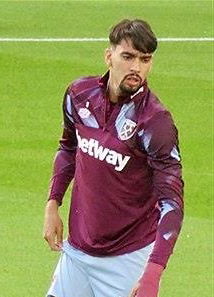 Oh dear, where do we start. When he`s good , he`s very, very good but when he`s bad…he is shocking. I am still confused as to whether or not he is a replacement or understudy for the equally frustrating Benrahma. During the Leeds game (remember that, we got a whole 1 point!) Moyes played in a 3-5-2 formation and playing him on the right side showed everybody his off-ball strengths whilst giving him the space to initiate attacks from far deeper areas on the pitch.
But when he was moved to the left hand side, as seen in other games he was obviously uncomfortable shown by his sloppy play and needless fouls.