David Moyes has made it clear that Pablo Fornals has put himself in with a real chance of starting the Conference Final for the Hammers.
The Spaniard scored again this afternoon against Leicester City after slotting home the winner in the second leg of the semi final second leg match against AZ Alkmaar.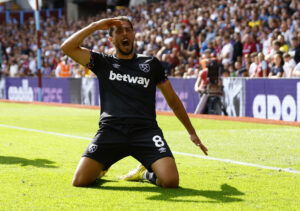 Two goals in the last three games and seven in a season when he has had long periods on the sidelines is impressive and Moyes is more than happy with him as things stand.
This afternoon he avoided the attentions of five Leicester defenders before sliding an inch-perfect shot in off the base of Daniel Iversen's left post with eleven minutes to play.
West Ham piled on the pressure late on, but could not find an equaliser that would have seen them finish above Wolverhampton Wanderers, and instead saw the east Londoners have to make do with 14th in the table.
And afterward the manager said: " Pablo manipulates the ball and finds a way of getting a goal quite often.
He's been a bit unlucky for long parts of the season but he's playing well. He played really well at Alkmaar, he played really well against Leeds United and I thought he played well today.
He's certainly putting himself in the frame to get a start because of how well he's doing and he's scoring goals, which is the thing we need.
Now we need to manage the week or so we've got before the final. We've got a near fully-fit squad, they're all in really good spirits.
Round the Club everybody is excited, but we now need to make sure we keep the excitement up, but get it ready and get the players at the right levels to go out and perform as well as we'll need to do, because we're up against a really tough opponent and it will take a mammoth effort to see us win the trophy.