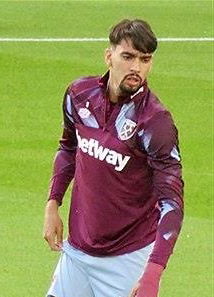 Lucas Paqueta hasn't exactly hit the ground running since arriving at the clud and as a result David Moyes has lacked some of the firepower he is after.
The Brazilian was hailed as a sensational £50 million signing who would spark much creativity into a Hammers side looking for exactly that.
Now, speaking to reporters, the manager has explained his thinking on the midfielder and how he hopes to get the best from him.
He said: "When we bought Lucas, we looked at him as more of a No 10. We tried to bring in someone who could give us a link between the midfield and forward players and I still think it may be.
But his feeling is, if you look at where he's played for Brazil, it's tended to be Casemiro and Paqueta (in midfield) and Neymar getting the No 10 role. Lucas a was slightly deeper. 
I'll be honest, we brought him for 8-10 goals, for 8-10 assists. But if you're asking me how he's doing, he's settling in much better, he's playing better in games.
We're playing him more like a No 8 if you want to call it that, alongside Dec. But the fact is, yeah, we hoped he would get us goals or add assists.
I've got to also think about what's best for the team. Before the winter break, we'd played that way, Lucas as the No 10 and Dec and Tomas behind.
We did it against Leicester and Crystal Palace. They were huge games for us and they didn't go our way. We didn't get the feel. So we decided, OK, we'll see how it settles in.
What that's done is it's disrupted some other things which we may need to look to alter as well.
He's settling in great with the boys. He's a very good character. We like him a lot. He trains well. He's a good type, he really is.
If you took the word "Brazilian" away and you took the other side – his effort, his commitment, his application to get about – is so, so good.
Now what we want is a bit of Brazilian, which is making the goals, scoring the goals, making the difference when we need it. I'm pleased with the way he's coming on.
He was four weeks late in coming in. It was not quite deadline day but then it was getting him ready. He missed the first month of the season and then had to come into a side not playing as well as we had done, us thinking he was coming in to make the difference and it didn't quite go that way."