By Hugh Southon
Italy manager Roberto Mancini has told David Moyes that Gianluca Scamacca needs games if he is to improve.
The £30 million plus striker was left disappointed and crestfallen after not being used in the draw against Aston Villa.
And as a result many questions are being asked about his future. It has prompted the Italy boss to make a big point to Moyes who currently is using Mikey and Danny Ings.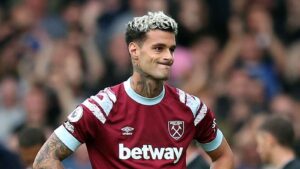 He has told Moyes that he cannot expect Scamacca to improve if he doesn't play him and suggests it is not helping his position as the national boss.
It will be interesting to see therefore how many minutes Scamacca gets in Thursday evening's match against Larnaca given that we are leading 2-0 from the match in Cyprus as it seems a very good opportunity to get him up to speed.
We have no further games until after the international break and only a few minutes or none will not help the striker's position at all.
Mancini told DAZN regarding the likes of Scamacca ahead of naming his latest Italy squad. "I hope those who are not playing much now be involved more…" 
"Scamacca is coming from an injury and doesn't play much either. The lads can improve only if they play.
"Scamacca, Raspadori, Gnonto, Zaniolo… we don't have many options…"