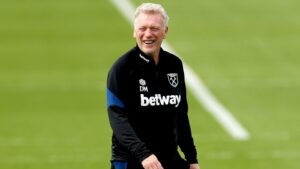 David Moyes has made it very clear indeed that he wants Conor Coventry to remain at West Ham.
Conor looked in fine form against Silkeborg last night at the London Stadium but has had barely a minute at first team level this season until then.
Moyes however, is looking him to remain at the club with his contract running out in June of next year.
That also leaves the player with a nig decision to make and a few more games look to be the answer if he is to remain at a club he joined at the age of 10.
Certainly, last night he looked as good as any player on the pitch and was unlucky with a long range shot which flew wide.
Afterwards the manager was very keen to give his opinion of a player who he described as "such a good lad and a good trainer."
Talking in his post-match presser her declared: Conor is a good player and it has been difficult to get him some minutes. We have had Flynn and with the competition we have got it has been difficult.
Conor had plenty of chances to leave but we wanted him to stay. He is such a good lad and a good trainer. He is a great competitor.
He is the captain of the Republic of Ireland Under-21s. We had Josh Cullen who is very similar here. Went to Anderlecht and Burnley. Playing for the full Republic team. Wouldn't surprise me if Conor followed the same path. He is doing great and we like him a lot. He had the chance to go in the summer.
He had a chance to go out in the summer, and he had a couple of good clubs [interested], but we like having him because he's such a good boy. He's low maintenance, trains great, great with the rest of the players. He's a good boy to have around.