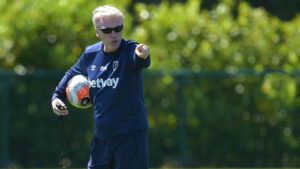 David Moyes has added a touch of realism to things following the win over Chelsea.
He often – like most managers – has a talent for declaring the self evident but to be fair this really is a simple game and as he says it's all about winning.
Chelsea was indeed a great win and a terrific game of football but the Hammers being the Hammers we know it could be followed by a familiar slip up.
We have a habit of beating the best teams now and again- it's those that aren't quite so talented which often give us problems and Moyes is obviously aware of that.
So he's seemingly determined to hammer home some points as the team departs for the north east and a bigf for three points which would go one heck of a way maybe towards survival.
The manner of the performance against Lampard's lot was in keeping with what we had seen ahhead of the Covid 19 break – we need very much to continue in that vein.
Speaking ahead of the game at https://www.whufc.com/news/articles/2020/july/03-july/david-moyes-its-time-prove-what-we-are-capable he said: Winning back-to-back games in the Premier League has always been tough.
Even in my early days in the competition, we used to try and encourage the players to aim to get two or three wins in a row – those results make a big difference come the end of the season. 
We realise the importance of the game against Newcastle, but not only this game; we've now got four games in ten days where we have to play well. We need to keep improving on our performances, adding a little bit to what we've done in recent games to try and get more wins.
We've got to win. We have to win our games to be a Premier League team. The win against Chelsea was great, but it doesn't keep us in the Premier League – we have to win more games.
I think we had a tough three games back. To play Wolves, to play Tottenham, then to play Chelsea – by anybody's standards, that would be seen as a tough run of fixtures.
We've now got a run of fixtures where I think we've got opportunities, but that's all they are at the moment: opportunities. We have to try and see if we can take them.