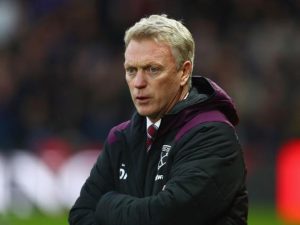 David Moyes has decided that 40 is the "magic figure"  and with the team coming to the end of what looked a very winnable set of games three points against Watford today is vital.
That puts the club 10 points away from the target which should ensure that for all our worries Premier League football will be on next season's agenda.
Speaking at his presser the manager declared: "A good win gets us into mid-table, into a really solid position, but a loss puts us back in amongst it.
That's how tight the Premier League is at the moment and all the managers will be saying the same, so we've got to do the business and try to get the three points.
We've been OK at home but we'd like to do better. We've had a couple of draws recently which we could have turned into wins, but as long as we keep picking up points and don't let rivals take points from us, we need to make sure we keep doing that.
I think 40 is the magic number for everybody. I've hardly looked at the points but I've looked at the league and how tight it is and what we might need to do, but results have come up which you didn't expect, like Swansea beating two of the top teams in the last few weeks.
There have been some big results and it's changing round all the time, but we know every point we get will get us nearer to being up the league."
Read more at http://www.whufc.com/news/articles/2018/february/09-february/moyes-key-fixtures-players-taking-responsibility-and#J3Hl3xLGTZhQq4kf.99