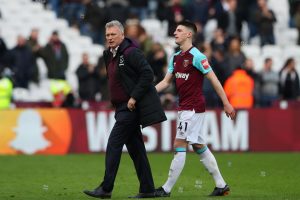 David Moyes has joined the chorus of praise for the latest big thing on the Hammers scene.
The club hasn't had much to cheer this season but the emergence of Declan Rice is clearly giving everybody great joy including the manager.
The boss explained: "He's a young centre-half, I've said before centre-half is probably the hardest position to play in the Premier League especially when you're young, because of the quality of the strikers and the variations of the teams you'll play.
"He's done a really good job, had bits of football all season, if we hadn't had an injury to Ginge today he would have played in midfield, so we've not said that that's what he is yet – he capable of playing in midfield or at the back.
"I thought he had a great game at the back and did a great job today."
Of Rice's international preference, Moyes added: "Well because it was a friendly he can still play [for England], my understanding is he's going for Ireland.
"I've not heard anything else at the moment but I thought he played really well today. I thought he gave us a little bit of mobility."