David Moyes admits he has seen Declan Rice grow into his role as Hammers captain.
The Irons midfielder has taken the armband after the retirement of Mark Noble.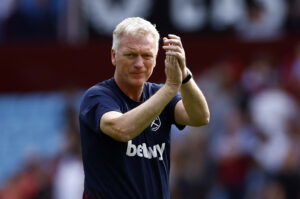 Moyes has made it clear that there are plenty of candidates to wear the armband within the squad, including summer signing Thilo Kehrer, but he has been mighty impressed with the way Declan has taken on the responsibility.
He told reporters: "I have seen him stand back and be quiet and listen and think: 'I need to know what to do and say here'. He is having to take responsibility. He is 23 at the moment. He is being asked to take on big roles.
"At the moment we may have people who are more experienced who could do the captaincy job. Thilo has been great behind the scenes with his leadership. He is 25, more experienced. But Declan is already responding.
"He has got to be part of Brazilian internationals, German internationals, Italian internationals. He has to show he can do that. he is young and the differences he will have at 27 as opposed to 23 will be day and night. It happens with individuals, we have all been young once and we get more mature and experienced and Dec will certainly be that by 27/28."
Moyes also insists that Rice earned the armband on the basis of his on-field performances.
He added: "Sometimes it is how you perform. Dec has been our leader on the pitch for the last year or two. His performances have been second to none, the way he works for the team. His commitment, wants to play the games, wants to get better.
"The other side is with a bit experience you know what to do in certain situations. We have seen a couple of things where we have seen young, immature things but he has been thrown in there so you have to say: 'can I stand up and do it?" and we want him to. He is doing it well. We want him to play and be the huge multi-talented footballer that he is."