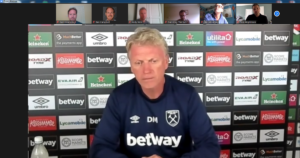 David Moyes had mixed views on the result against Brentford as his plans for the new season continue to take shape.
After victories over Wycombe Wanderers and Ipswich it was obvious the Bees were going to be an entirely different test – a sterner challenge and so it turned out.
Sadly it also meant that we have yet to keep a clean sheet in the three pre-season and as a result the manager wasn't bubbling over with excitement at the end of the 90 minutes.
It's always best to be a little cautious at this time of pre-season but there has been some encouraging signs from the Hammers that they may well be ready to start in the same way as they finished.
But Moyes wasn't entirely happy with the manner of the victory over Brentford and happily gave a pretty neutral verdict on the win.
Speaking to West Ham TV after the 2-1 win he said: "I wasn't feeling so good at half-time because I didn't think we played very well [in the first half], so I was a bit disappointed with our performance.
But look, we're in pre-season, we knew how it was going to be and we chopped and changed the team today. We gave most of the players 45 minutes so it was always going to be a little up and down.
Ultimately, it was a good exercise for us. Brentford are a good team as people know. It was never going to be an easy game wherever you play them.
Quite easily Brentford could have been a Premier League team this season as we're all aware. There were bits of the game we were happy with and bits that we weren't. I thought we improved and were much better in the second half. We controlled the game a bit more in the second half."