By CandH Facebook follower Steve Abbott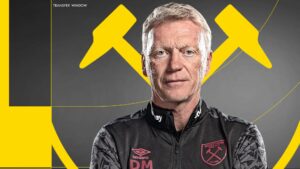 Although I think David Moyes is great for our club he can exhibit some very cowardly behaviour.
Yes, he has established the equanimity we have needed for the past two and a half seasons and has stopped us from being the laughing stock of the league
Sadly. however, he gives far too much credence to those clubs deemed 'The Big Six' with  defensive set-ups which belies his  statements that he wants to compete with them and his managerial record against them, at all clubs, has been shockingly bad.
He talks of us being a sleeping giant and yet he plays against those clubs as if we're a 'Cup giant-killing, League 1 or 2 club'.
Look at the clubs that have taken points off of these 'Big 6' clubs this season alone; Southampton, Brentford, Brighton, Newcastle, Everton, Fulham, and yes, us (1, against Tottenham, our game of the season).
These teams are our nearest rivals and some of them have hammered the 'Top 6' teams they have played. Yet, Moyes –  every time we play one of them –  sets up with a low block, 1 player up front, rarely supported by more than 1 midfielder and makes the most ludicrous substitutions.
Who knows what may have happened at Chelsea had Benrahma and Cornet been brought on earlier given what came at the end.  Chelsea AND Tottenham have played poorly for the majority of this season and yet he sets us up as if they are Real Madrid or Manchester City.
I know the moronic 'Moyes Out' brigade will lap up this post and I can assure you i am not one of them, but having watched every single game for the last three  years, i am bored 90% of the time of watching his style of football.
He has done us proud as a football club, granted, but his brand of football dull and uninspiring and does he illicit cowardice on a regular basis.