David Moyes has lavished Declan Rice with praise ahead of this weekend's clash with Manchester City.
The game is set to be Mark Noble's final home game in the claret and blue shirt, although it remains to be seen if he will actually play.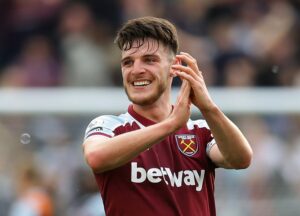 Rice and Tomas Soucek are the go-to midfield pairing for boss David Moyes but one has to think that Noble will at least get a couple of minutes against City on Sunday.
Nevertheless, Moyes has spoken extremely highly of the England international ahead of the final game of the season, insisting that he has been the best England player since Euro 2020, with the exception of Spurs' Harry Kane.
And he believes that he has improved simply by playing alongside Nobes for so long, and coming up as a young player while the skipper was excelling for the club.
Speaking to reporters, as per the club's official website, he said: "With the exception of maybe Harry Kane in the second half of the season, I think Declan Rice has probably been the pick of the England players who played in the Euros last year.
"I hope he continues to get better. He's got lots of improvement in him. He'll have learned a lot from Mark in leadership. He's a young man and he'll get better with experience.
"He captains West Ham at the moment so he's certainly going down that line [becoming England captain]."