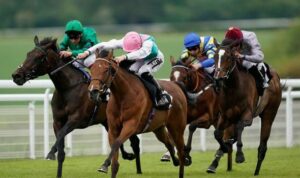 As a horse racing man I know too much about non stayers and it seems that David Moyes understands the gee gees very well himself.
Not that horses were his concern when talking up another top four challenge but it's a handy analogy with Cheltenham around the corner followed by the Grand National.
Quite simply he insists the Hammers squad can't be like too many of those horses some of us tend to back which never quite get home.
The Leeds match is one of those that simply has to be on if we are to keep our dreams of hitting the serious big time next season.
The Yorkshire outfit are claimed to be an energetic and effective side but they also suffer from the old West Ham disease of inconsistency.
On paper at least there are tougher tests to follow but given our form none should be a HUGE worry as we approach the last few furlongs of the Premier League season.
Commenting Moysie said: 'I have to say we are big outsiders for the Champions League because there are lots of teams there.
'But if you watch the racing at Cheltenham quite often the outsiders come good, so I am hoping
We are one of those big outsiders and we can shock a few. think we are kidding anybody on when we are in a position to be in that place, but with the resilience, the commitment, the determination the players have shown nothing would surprise me with them, it really wouldn't.
'At the start, if you'd have given me top 10 I would have said, 'thank you very much', it would be a good season for West Ham and it would show that progress had been made.
'We don't want to lose the fact that making progress is important. The position we are in at the moment is an incredible position to be in and I hope we can stay in it and we will do everything we can to stay there.
'We are going to try. I can't promise the fans that it is on, but I can tell them that we will try and do what we can.