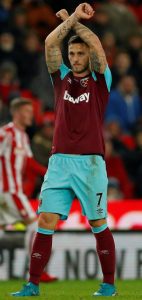 David Moyes flatly refuses to give it large about Marko Arnautovic and makes it clear he still has a way to go as far as he's concerned.
The record signing returned to the Hammers side against Watford and immediately sparked a terrific performance from the team – particularly in the first half.
But the manager insists he wants more declaring: "He's not getting any praise, that's for sure!. He's getting told he has got to keep at it and he's getting pushed all the way! We're telling him he is doing well for us, but he's not getting off the hook. I think he's got a bit to go.
"He's only trained three days this week, to be fair, and you can see the difference he makes to us going forward. He's got power, pace and quality on the ball and he's doing a really good job.
I told him he should have scored more goals, but he should also have had a penalty kick for a foul on him in the first half.
"Was it a risk? I didn't feel it was a risk because he gives me all the right vibes. It was about what condition he was in physically and if you have him in the right frame of mind, he's very difficult to play against. He did well. He is a real threat.
"When he came in with that new hairdo on Thursday I didn't want to say it looked bad, so I told him 'I think that looks great Marko' and he went away happy. I thought it was a purple rinse he had put in there!"