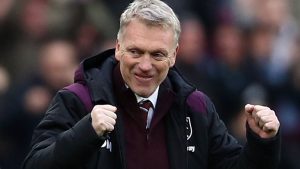 David Moyes has admitted that he wants to stay at West Ham beyond the end of the season but has to ensure that the club maintains its Premier League status.
The manager – answering the question  – said:  "Yeah I do, but I want a club I can move forward and I want a club which gives us every opportunity to do that.
Until I keep the team in the Premier League then I wouldn't want to talk about it, because at the end of that, it might be that maybe the supporters don't want David Moyes, maybe David Moyes doesn't want to stay.
So until I get in a position to say 'we're in the Premier League,' then after that, let's all sit down and have the conversations. At the moment, I'm trying to focus totally on staying in the league.
You want to be at a club where you can say, 'We can go places here, we can make this better', and I think when there are bits of it not working right, then it can break down. And for some reason, lots of the supporters don't think it's working.
There's no reason not to stay, but I want the club in the Premier League. It's a big club, but I think it can get bigger. By having 60,000 people coming to the game, giving yourself that opportunity, you give yourself a real chance of attracting players and obviously we're in London.
But I think people want to see that there's a stability to the club as well in the way things are being done. If you're a player, you want to come to a club where the supporters are right behind the team.
You don't want to come somewhere it's not. Are there many teams in the Premier League where you could say that's an absolute definite, people are right with us? Probably not. It's not easy to keep everybody happy.