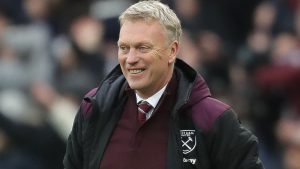 David Moyes is probably one win away from nailing down a new deal with West Ham.
Short of a footballing miracle it is unlikely that either Stoke or Southampton – with a fixture list which looks perilous at the very least – can catch the Hammers, currently in 14th.
A win over the Potters on April 16 looks set to see the Irons safe which will set the Scot up for a permanent contract although the club – like most others – have no intention of working longer than a year at a time.
The deal would be agreed at the club's annual summer review and Moyes has regularly admitted he will be ready to sign once Premier League safety is certain.
With a game in hand on four of the clubs beneath them the club is taking a long intake of breath with relief the major emotion right now.
Nobody is taking anything for granted but the board are now convinced that Moyes is the man to take them forward after 18 months of anguish and uncertainty since their arrival in the LS.
The owners are happy with the manager's work ethic which sees him on the training pitch running lengthy sessions before doing the vast majority of scouting himself.
Moyes himself said earlier:  "I want a club I can move forward and I want a club which gives us every opportunity to do that.
"This is a big club and I think it can be bigger. There's no reason not to stay but I want it in the Premier League."