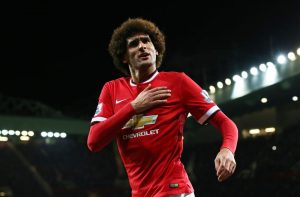 David Moyes and West Ham are again being linked with Manchester United contract rebel Marouane Fellaini who reportedly has half a dozen clubs after him.
Despite Jose Mourinho doing his best to keep the Belgium international, the midfielder has turned down a new deal at Old Trafford.
The Mirror reports that Paris Saint-Germain, Juventus, Monaco, Besiktas, West Ham and Leicester have all been in contact with his advisers.
The player – having enjoyed a fruitful and close relationship with David Moyes at Everton is keen on one last big money move and it is widely believed he will move abroad to get it.
However, he has been regularly linked with the Irons and the manager can be expected to press hard for his former Goodison favourite.
However, Moyes believes he is the type of character who can bring some much need steel to his midfield and has him as a possible alternative to Fulham's Tom Cairney who will most certainly remain with the club should they be promoted to the Premier League.