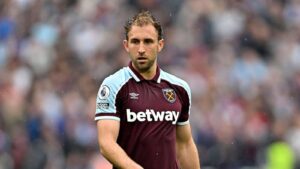 By Hughie Southon
David Moyes has been making some awkward comments on Craig Dawson whom he insists is unavailable for the game against Wolves at Molineux tomorrow (Sat).
The manager was seemingly very defensive bout his absence as he he was quizzed by reporters on whether the 32 year old would be playing or not.
Having explained that he was simply "unavailable" the manager fenced off questioners without making it clear why.
One reporter asked "He isn't injured or ill, but he isn't playing tomorrow?"
Moyes responded: "No I didn't say that, I said that he is not available tomorrow. I'm just saying he is not available tomorrow."
He was then asked if it was about possibly moving to a club which is close to the Hammers at the bottom of the table.
But once again Moyes refused to be drawn simply saying: "At the moment we have had an offer.
"We don't have an awful lot to say about it at the moment. Most of you probably know the rest of the story behind it all so I don't need to repeat that."
IF ONLY!