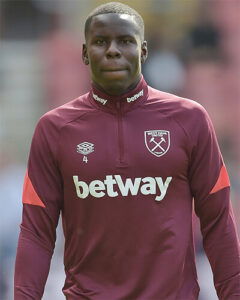 David Moyes has indicated that Kurt Zouma will again be involved when the Hammers take on Leicester City on Sunday.
The controversy continues with the boss claiming the club took the decision that he is made available and that he is standing by that.
Many have suggested that this can only serve to re-ignite the media attention the incident has attracted but the club seem content to take that and ensure the manager can put out his best team.
Moyes has also given details of the penalties already taken against him confirming that the central defender has been hit by a two week wage loss.
He claims everybody is doing all they can to help him and the RSPCA will provide courses to help and educate the player.
So it seems we may – after all – see the same team that defeated Watford on Tuesday night although it seems likely that Manu L:anzini in for Said Benrahma after he produced a great second half performance.
Moyes said: " We as a Club took the decision that we make him available, and I stand by that. 
I don't think a Club could have taken more action, any quicker. We've fined him maximum wages.
"He's getting some help. We're trying to do as much as we can as a Club to help him.
"I think the RSPCA are going to provide us with some courses to help him and make sure that Kurt's getting better and understanding it. We're going to do everything as a Club that we possibly can to resolve it.
"I've had over 1000 games and I've never treated any player differently. If it's regarding disciplinary reasons, everyone's treated the exact same."
He added:
"I'd say right away is that we're completely upset by it at the well. There's nobody more disappointed than me or the Club itself.
"We're really sorry we've upset West Ham supporters. For the West Ham supporters disappointed by it, I've got to say we're really disappointed by it as well.
"We're making sure animal charities will benefit from it. It's a terrible situation, nobody's hiding it, but we are trying to make some good come from bad."