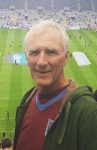 By CandH's Allen Cummings
To say it's been a tough season so far is probably an understatement. Off the field, as well as on it, times have been hard. We've been short on points and likewise short on heroes to hang our hat, and scarves, on!
That said, there are two stand-out players who have surfaced from an otherwise forgettable campaign. Our very own AA rescuers….Arnie and Arthur!
Marko Arnautovic  and Arthur Masuaku have emerged as not only crowd pleasers, but game changers. And the man who surely deserves all the plaudits for being instrumental in the massive change in both players' fortunes is manager David Moyes.
Still maligned in some quarters Moyes has not only brought organisation and stability to the team, his expert eye has transformed both players from zeros to heroes.
Arnautovic was our record summer buy at £24m but a sending off in our second Premier League game and subsequent lacklustre performances under Slaven Bilic had calls of "what a waste of money" ringing in his ears. But his season turned on its head following the arrival of Moyes.
His masterstroke was to release Arnie from his restrictive wide role and give him a free reign up front. Moyes clearly saw the potential in Arnautovic's pace, power and eye for a goal. His decision to use him as the focal point of our attack was an inspired move that couldn't have worked better for the manager, player and the team. Nine goals make him the club's leading scorer so far – with the promise of more to come before the season's finally done.
Masuaku also owes a huge debit of gratitude to Moyes. He was a peripheral figure under Bilic, understudy to Arron Cresswell and rarely getting even a run out in the side.
The new manager recognised Arthur's talents were better suited to a more adventurous, advanced role. Moyes knew Arthur's ability to go past players and deliver a telling cross would give us a more thrusting cutting edge, while at the same time giving the team a far better balance.
Used for the first time in a narrow defeat at Manchester City, the manager saw enough to realise his decision was right and it would only be a matter of time before Masuaku emerged as a key player, and fans favourite. He was right for the second time!
Had Guardiola or Mourinho been instrumental in master mining similar transformations in their players they would surely have been showered in praise. Moyes deserves exactly the same kind of recognition for what he has done in creating two genuine match winners.