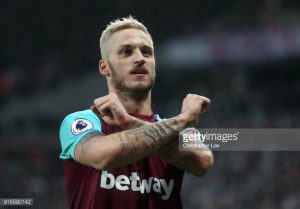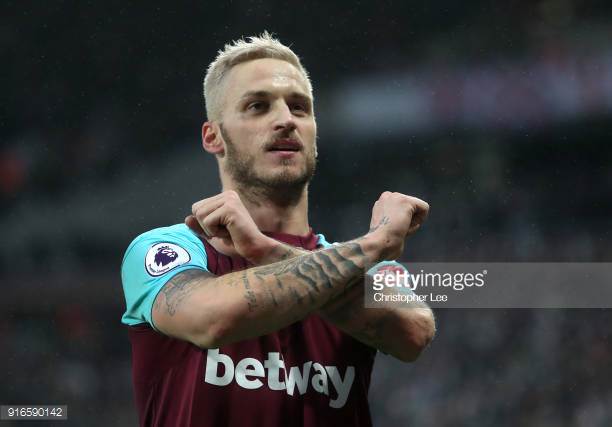 David Moyes may have dropped a heavy hint that Mark Arnautovic is a Hammers captain in waiting.
It's been obvious for several months now that the Austrian is leading the way in ability and  character that he could soon be wearing the armband.
And , more than any other player perhaps, hr is always ready to show the crossed arms during his celebration – he already appears to bleed West Ham.
The manager avoided the word 'captain' in his latest assessment of the club's current main man but used the word leadership as he addressed the next stages of the 28 year old's Irons career.
He said: "The players look to him. He's got a leadership role which he needs to develop as well for the team and for the Club, because he is getting to an age where he has to influence the players around him, so he needs to lead by both his character and his performances, and his performances have done that in many ways.
"He is vocal in his own way. He has good humour, he's a character and I'd like him to put that talking about what he can do in training. To get to the very top, he needs to keep his level of training very high."
"I'll let him carry on and be Marko. All I am doing is saying 'Keep doing the things you're good at and keep showing everybody your energy is big and your running is high and you're not the Marko of the first three months that people saw. Everybody likes the Marko they've seen the last six months, so keep it going'.
"Players like Marko need a little bit of legroom, maybe more than others, and I think we gave Marko his legroom but I want to make sure he knows he has got to do the job here.
I don't think he will [slack off] now, because he knows what got the crowd from booing him to cheering him every week and becoming one of their heroes.
"He set about with his energy and his attitude to turn the situation around and I think he's done that, so why would he want to go back to where he was? I wouldn't.
I'd want to keep doing the things that have got me the applause and the goals, because it's always nice to score a goal!"