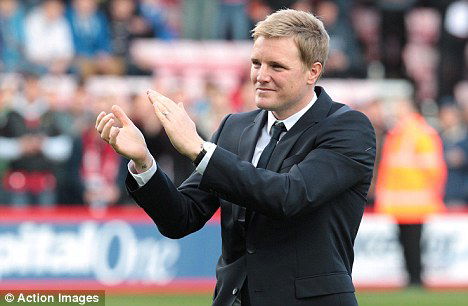 Without any fuss, protests or over-reaction from the fans, Eddie Howe has steered Bournemouth away from the perilous relegation area they inhabited earlier in the season.
The man plays exactly the type of football of which most Hammers fans approve but there's a steel to the 'get it down and play' philosophy he has employed since Day One at the club.
His achievement in taking the Cherries to the Premier League from the edge of extinction is amazing. Keeping them there has been not so much miraculous as a tribute to his managerial techniques.
OK, we all remember his tongue in cheek remarks on Boxing Day when we were cheated out of three points but that's meaningless in the great scheme of things.
Howe has shown that playing on the deck football is possible for even teams without the resources enjoyed by the likes of City, United, Arsenal and Chelsea.
He appears to be a good judge of players and his man management techniques are excellent – there's not many noises come out of the club.
If David Moyes keeps us up which I believe he will that will be job done for me. We say thank you and move on to a manager who will provide the sort of stability required along with a brand of football which will always be required at out club.
Whether this board can attract such a man and keep him happy is the big question.
I would want to hope so.