David Moyes insists he has no egos in his Hammers team as they prepare to take on Manchester United and sulker Cristiano Ronaldo.
The Portugal international was clearly in a huff at being subbed during the win over Brentford earlier this week and made it clear to interim boss Ralf Rangnick that he was unhappy.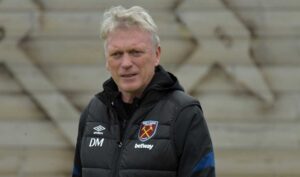 That seemed to be the player putting his ego in front of the team, especially as United were actually winning at the time.
And Moyes has made it clear that his West Ham squad doesn't have that many egos as the Irons ready themselves for this weekend's giant top-four encounter against Rangnick's men.
Asked about the challenge of managing egos, Moyes told reporters: "It's a big thing, it really is, for all coaches at all the clubs. It will be the same at a lot of the other big clubs. I have to say you're talking about, what, the best player in the world?
"He's phenomenal, that he can do what he's done. For me the biggest thing about Ronaldo is his hunger to play and his hunger to not let up. I see him driving all the players on, showing leadership.
"For a manager he must be a great player because he's got a level of commitment, preparation, dedication to the game and himself which will always give him a chance of being effective. At the big clubs you'll always get players with egos and that's a part of the job.
"We've got a humble group of players. Very honest. I've got to say great group who have got a tougher mentality now than they've ever had. We are hugely disappointed that we didn't win last week.
"The players feel it, I felt it, we know we missed an opportunity to get three valuable points but that's going to happen in a Premier League season. Looking at people like Ronaldo, who is a great example to so many young footballers how you can prolong your career, how you can keep going, keep yourself in incredible shape through dedication."