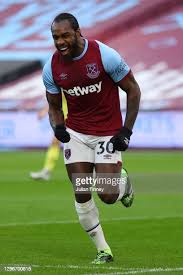 It's pretty clear that Mikey Antonio may not be at his best right now!
Most would put that down to his dodgy hamstrings and that he may have been instructed or decided to nurse himself through games.
It would be an understandable reaction to his recent problems givn too that he is the only out and out striker at the club.
David Moyes has been discussing with reporters the amount of work he has been putting into things as he bids to make him into a centre forward the manager believes he can be.
He said: "I was looking for Mich, his development as a centre-forward was key for me. We knew he could run and was powerful but we wanted his hold up play to be much better.
We wanted to be able to use him to bring other people into the game and he has done a lot of work on it, tried to get much better.
He is in a spell of form where he is up and down a bit, he's got goals and played quite well but then maybe not played so well in the next game so we're trying to get a level of consistency from Mich at the moment.
You can look at centre-forwards across the league and that is quite often the way it is, their goals keep them going.
Mich got us a really important goal last Sunday, he is doing a great job and understanding the role much better.
He's got experience with his age but maybe just the more games he gets as a centre-forward the more understanding he'll get of the role, taking up the positions and holding the ball up at the right time.
Sometimes he chooses to run when he should stay still and sometimes he holds onto it too long when he should have released it and got away. But getting into the box and getting on the end of things, he's been very good at that."
He added: "I think he's got the raw attributes to cause people problems but generally just understanding the times to run, times to stay still and the positions to take up in the box to get yourself a goal.
Mickey's biggest thing is maintaining a level of fitness because his power and pace are so important to him so finding a way of keeping himself at the top level for the games will be important going forward."