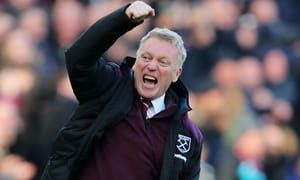 David Moyes has spoken about his hopes and expectations at the end of last season after Hammers from relegation.
And in fairness to them this is a particularly decent exclusive obtained by The Sun! 🙂
Moyes admits during the course of the news feature: "I have to say we couldn't have done a better job. That's why I was disappointed not to be offered the opportunity to stay.
I'd taken it to the end of the season to see how I did and how the owners felt.
"From where they were to get them living and breathing again, was probably as successful a season as I could have had."
"By the end I'd decided I wanted to stay if the owners provided me with the funds to strengthen the squad.
"It disappointed me I didn't at least get a chance to talk about it."
Moyes added: "If we'd have had the chance to spend I think we'd have got a successful team.
"The biggest strengthening had to be at the back. They needed reinforcements but every manager has their own thoughts."
Full story can be read @ https://www.thesun.co.uk/sport/football/7268722/david-moyes-west-ham/