David Moyes believes the West Ham board have long memories, and think he has transformed the club during his time in the dugout.
The Hammers have enjoyed three excellent years under Moyes' management, challenging at the top end of the Premier League table and reaching the Europa League semi-final.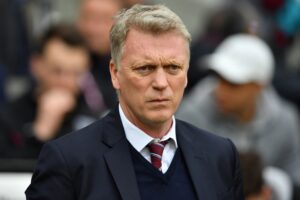 Moyes believes the owners have seen the work that he has done, and are thus more minded to support him through a run that has seen them lose five in a row in the Premier League, and left them hovering just above the relegation zone.
He told reporters: "As we all get older we all get a little wiser, don't we?
"I don't like saying it as I don't want to be a boastful one but we have had three really good years, we avoided relegation, we made Europe and the top six, we fought last season to be in Europe, we got to a semi final of a European competition.
"Sometimes if I was going to blow my own trumpet then I would probably say, 'well look there has been three years that have been pretty good' but I also understand because I am in the job that quite often if you lose 4 or 5 games right under pressure.
"I am really fortunate that they have recognised the good work which has gone on in the last three years which is probably the reason I am getting such good support."
Moyes believes the owners are looking at a bigger picture than just the immediate results ahead of this week's clash with Leeds.
He added: "Yes I think the owners and the club, I believe, the biggest thing is that they want me to work and they want it to happen. I came in a situation twice before, we were in a worse situation than we are now. And they saw me as the right man for the job so I don't think at any time they think I am not the right man for that job now."