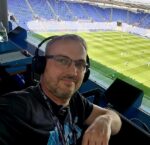 By Gonzo
There's no smoke without fire, as the old saying goes and there appears to be something smouldering at West Ham right now.
Ordinarily I'd not pay too much attention to tales of discontent and conspiracy theories but there's now so much rumour that it's hard to ignore.
The suggestion is that Hammers manager David Moyes has not only lost the dressing room but also has a strained relationship with his back room team.
There are numerous reports of a touchline bust-up between him and Kevin Nolan against Brighton on Saturday.
Whilst I didn't witness anything of that description there was certainly a heated exchange between Moyes and the former West Ham captain.
There also seemed to be a disagreement between the manager and Declan Rice who had a protracted discussion whilst Angelo Ogbonna was receiving treatment.
When added to the departures of Alan Irvine (for family reasons) and Stuart Pearce (to work more in the media) it certainly does make one wonder if all is as harmonious as the club would have us believe?
Irvive was supposed to return to Rush Green on a part-time basis, in a consultancy role which doesn't appear to have materialised. Stuart Pearce does feature occasionally on Talk Sport but certainly not enough to warrant quitting his day job.
Individually these stories don't indicate much is wrong at the training ground. However when you piece them together there's certainly the embers of a much bigger story.