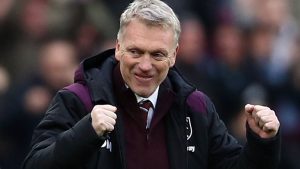 David Moyes has turned all the "get behind the players" spin from the Hammers media office and elsewhere on its head and told the boys on the pitch to change the mood.
Not before time the manager has made it clear that the squad must be the people who sort out the issues inside the London Stadium as they head into the Saints game.
Speaking in his Evening Standard article he has ordered his players  to give the crowd something to cheer.
Moyes – like most sane Hammers people – wants no more of the Burnley type incidents and said: "My message to the players is we have to be the instigator.
"We need to be the ones to start things off, set the mood and give the supporters something on which they can focus their support.
"I can tell our fans that the players are really together. They've been hard on themselves since the Burnley defeat and they are ready for the remaining eight games of this season. It will make our job so much easier if everyone is behind us on Saturday — and I'm sure they will be.
"The problems which occurred against Burnley didn't help us. After the first goal there was a long break because of the issues on the pitch and the players' statistics dropped off dramatically.
That proves the importance of the support — and if that can happen so spectacularly when things go wrong, then the opposite is true if we feel that unified support."