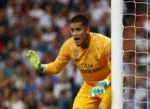 Lukasz Fabianski remains the club's number one keeper after a pre-season which has seen him in good form and despite sustaining a dead leg against Manchester City is likely to be between the sticks on Sunday.
David Moyes has been impressed with the veteran keeper and his words when addressing reporters at the pre-match presser against Nottingham Forest made it clear that Alphonse Areola will  to have to wait to succeed him
Fab has indeed been looking good and assuming he is fit – we were told he has a 9o percent chance of making it – will be ready for the clash against the newly promoted outfit.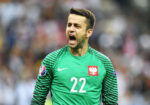 Speaking to reporters Moyes said: "I think the decision was made easy (ro be No 1)  by Lukasz's form in the preseason games. He played ever so well in them.
He was back a little bit earlier, didn't have any international football whereas Alphonse had a little bit and was a bit later back.
We've got really good competition. We know that Lukasz wasn't as young as he was before so we've got Alphonse for things going forward. 
I think that if you're going to be successful you've got to realise there are always going to be people to push you. If you want to be a top player you have to take that challenge on and show what you can do. I want competition, I think we need it. "