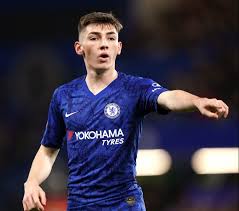 Speaking to BBC Scotland's Scottish football podcast, David Moyes told listeners said: "The one [Scottish player] who if I could sign tomorrow I would is Billy Gilmour after his opening performances for Chelsea. He's looked like a seasoned pro, he's looked like somebody who's hungry, who's in love with the game."
He added: "I was laughing because I keep getting told that Chelsea want Declan Rice, so I thought well I might just decide I want Billy Gilmour and see how it goes."
His comments have been widely reported out of context with the headlines from the Sun  and the Daily Express reporting that the West Ham would happily swap the players.
Moyes joke has backfired on him with supporters' reading the headlines and not the detail believing that he is prepared to sacrifice Declan Rice in a swap deal with Chelsea.
Billy Gilmour's first-team career so far amounts to just seven appearances – four starts – and 461 minutes.
You can listen to David Moyes on the Scottish Football Podcast at https://www.bbc.co.uk/programmes/p08c6r40