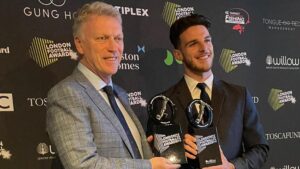 David Moyes reckons West Ham will handle any inquiries for Declan Rice in the same way as Spurs did  for Harry Kane.
Essentially the club has no intention of letting their p;rize asset leave and the manager insisys tyhje club have the power in all or any negotiations.
And he warned any interested clubs that the regularly quoted price of £150 million is incorrect and that the fee is now north of that!
He was asked if the Hammers would adopt a similar position to that of Crystal Palace on Wilfred Zaha, who has remained at Selhurst Park because clubs have considered his price too high.
Responding Moyes made it clear that he saw things in a somewhat different light before making it clear that Rice's fee was rising all the time.
It's clear the manager is ready to do everything in his power to dissuafe any interest as the media chatter goes on and on.
He said: "The first thing to say is that he is not for sale. If you are interested, well, it will be north of that (£150m)  because £100million was cheap last summer.
£150million just now would be minimum but he is not for sale. What I do know is that it means there are only certain clubs that could even consider it."
 "I look at what Tottenham did with Harry Kane albeit in a different way. They said: 'No, there is a price and if someone wants to pay the price, then we would probably do it. If they don't then he's not going anywhere.' That's it, they have kept him.
" Harry Kane, he got off to a bit of a slow start like a few England players after the Euros. But he is a top player.
He proved that against us a couple of weeks ago. So I think in many ways, the football clubs are the people in charge of them, they have got the contracts.
"There will be times when players have got the power but at the moment we have got Declan on the best part of a 3.5 year contract. Just like Tottenham have got Harry Kane on a contract and they control what happens."