David Moyes insists that Richarlison will get a kicking from his Hammers players if he tries to showboat like he did against Nottingham Forest.
The Spurs ace came off the bench against Forest and juggled the ball before attempting to play a pass, and was then wiped out by a defender.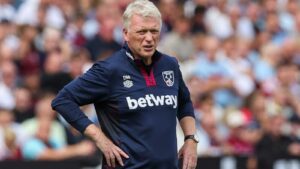 He has since been in the news, with a number of pundits suggesting that he was disrespectful, and he went on to assist Harry Kane's second goal of the game with the outside of his boot, as he sent a cross into the back post.
Moyes was asked about the prospect of Richarlison doing the same thing against the Hammers in tonight's London derby and he warned the Brazilian that he will face some rough justice if he tries it.
Quoted by The Sun, the Irons boss was pushed for his opinion on the Tottenham man's antics and whether there was room for them in the game and replied: "No, I don't think there is.
"I think football in all countries, there's no room for ball juggling, whether it is in this one or any other ones, or whether it be in non-league or the Premier League.
"If you are talented enough to do that, you need to be strong enough to take the hits."
Antonio Conte defended his man after the Forest clash.