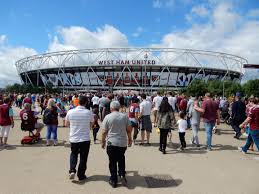 David Moyes is missing the Hammers fans in the biggest possible way …as of course are the squad.
In a season such as this after the sufferings we have had to endure over the years we deserved it but covid makes no exceptions to its victims at any level.
The Spurs match of course is always very special and as we pointed out a couple of days ago we are favourites to win for the first time in 20 years.
Moyes would want nothing more than to see fans inside the London Stadium declaring of the Spurs game in particular: "It's something that for a West Ham supporter, especially being in the position we're in and with the way, we're playing, a great game to be at.
We'd have all the support, bar 3,000 Spurs fans, so it would have been great to have them at London Stadium. We'll be thinking about them and trying everything we can to get a good, positive result."
He admits the current situation brings its own pressure but that it's obviously far better than living with what had become a too regular threat of relegation.
Commenting at www.whufc.com Moyes made it clear again that we are all better off taking one game at a time but given where we've been and where we are now at that's tricky of course.
He said:  "We've not been in this situation at West Ham for a long time – certainly in the couple of times I've been here we've not been.
It is good, but it comes with its added pressure as well, because it comes with people asking: 'Can you make the Champions League? Do you think you can make the Europa League? Where do you think you're going to finish?'
But it sounds a lot better talking that way and having people ask you those questions than it does when you're at the bottom.