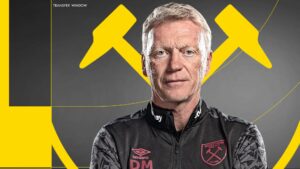 West Ham will enter a critical 14 days once club football resumes after the international break.
Much has been said about the depth (or otherwise) of our squad and we are about to find out exactly where we stand in that respect as the boys face the most daunting of fortnights.
Unbelievably, almost they are facing five critical games with the space of 14 days which is set to test them to the limit.
Thus far they have performed brilliantly during a season which has seen them complete 10 games in all competitions.
But with games against Everton, on October 17 (away), Genk on the 21st (away) , Spurs on the 24th, Manchester City in the Carabao Cup on the 25th and Villa (away) on the 31st life could get much tougher as possible wear and tear sets in.
Keeping Mikey Antonio fit is critical and we can only be grateful that the striker turned his back on international duty.
Manager David Moyes insists the squad will become used to playing Thursdays and Sundays – we are about to fond out!