David Moyes has goals on his mind.
And he is also pleased with the assists coming from members of the team although Mawel Cornet's contribution to the goal we lost against Viborg didn't go down too well.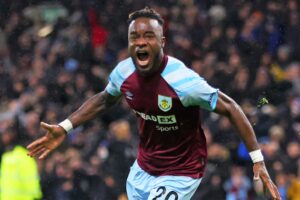 The new signing made his first start against Viborg and was  involved in some poor defending which saw the visitors reduce the arrears to 2-1 and ask by reporters about huis reaction to the new signing's first start the manager said: "I thought he done okay. I didn't like his contribution in the goal we lost.
"Again, we've got to give some people a little bit of time to settle. We need people with goals and assists so Maxi getting an assist last night was really important to us,
Said (Benrahma) getting another assist last night. Players we're bringing in, that's what we're getting them in for, to assist or score the goals.
Last night, the ones who you would think are maybe our goalscorers have got all the goals last night which hopefully, gives them a bit more confidence. Said assisted in one, Maxwel assisted in one so I take positives in that last night."
He added that it was very important the lads scored goals in the game and in particular to those who hit the net declaring: "We probably could have scored two or three in the game in different ways and if I'm being honest,
Tomas Soucek probably ended up with the biggest chances in the game at Notts Forest but in this game then, we started to get our forward players a bit more opportunities and our attacking players made more assists as well. We will look at that and hopefully, it will just give them that little bit of confidence to go on and do it in the next game.