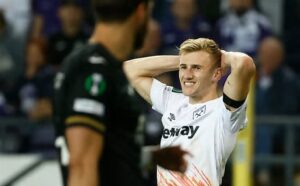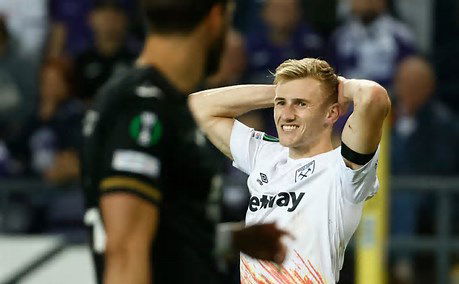 Flynn Downes has become a big topic among the fans after a fine outing against Anderlecht during a second impressive Conference outing.
We wrote earlier today that he is becoming harder and harder for the manager to ignore, and it would come as no surprise to see him involved against Fulham at some stage on Sunday.
However, he has admitted finding it tough to adapt since arriving from Swansea City but David Moyes explained he had been talking to him regularly.
He told reporters: We are always in contact with the players. but you have to remember it is a huge step up from Ipswich to Swansea to the Premier League at a club who is trying to break the top six,
And coming into a midfield with Declan Rice and Tomas Soucek is no easy task. If you are not going to be patient, that's when you have a problem. You have to be patient, ready to take chances. He looks to be settling in now to what we want but I thought he played really well line Belgium."
The manager added the more he plays with Declan the better he will het adding: "Just like Jude Bellingham, just like Kalvin Phillips.
It says a lot. everybody wants to play alongside Declan rice because of how good he is. So does Tomas Soucek. Downes is now giving us more competition and more to think about. I am really pleased. We signed him with big hopes knowing he was a young boy a bit like with Jarrod.