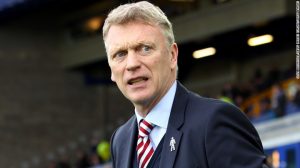 David Moyes fully accepts the Irons lacked quality in the 3-3 draw with Bournemouth but remains as gutted as everybody else with the south coast outfit's equaliser at the death.
Speaking to the official site he said: "I think the referees do a great job here, I really do.  think we've got good referees. It's not easy but I think there were a couple of things that maybe could have gone a different way for us.
"I don't know why he wouldn't go with his linesman's decision. He puts his flag up obviously because he believes there's an offside.
The worst part is that it's a Bournemouth player who puts the ball in the net with the top of his arm. It should have been stopped for that.
"We're disappointed because we're in the dying minutes and we've got ourselves 3-2 up. We'd fought back although we weren't great throughout all of the game. We showed great spirit to get back in it and then to lose a goal like that is a killer."
"It was unbelievable. Not for a minute am I saying we were robbed; far from it. The game could have gone anyway. We missed a few chances and they certainly did as well.
"When we got 3-2 up with a couple of minutes to go, to lose that through that goal is going to be hard to take. There were periods in the game I didn't think we were getting back in it."
But the boss is set for some hard work on the training ground after watching the team concede six goals in two games and said: "We have to get back on the training ground and see if we can work on a lot of things. We showed great spirit and great energy to stay in the game, but we've got to defend much better than we have done today."