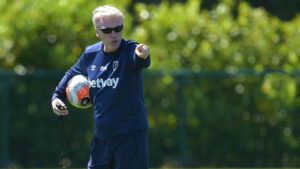 David Moyes says he wants West Ham to play in European competition regularly again, but he knows the nature of football means that will only happen with careful, sensible planning and recruitment, and steady improvement on and off the pitch.
"I want to challenge for the Europa League," he told WHUFC.com. "I can't promise that though, and I don't want to promise West Ham supporters something that I can't deliver. But I want to give them hope that that's where I'm trying to get to. I've been there before, and it can't happen overnight."
The 57-year-old explained his strategy of bringing the average age of the squad down by adding young hungry players by saying
"We are trying to bring in a younger group. We have the makings of a young group and I think if we can keep adding to that that'll be good, but we want them to be good players and want them to be players who can come in and help us but we are also not neglecting our most senior players. Central defenders, for example, are often a bit better when they're more experienced. So, we will just need to see what comes at the right time for us."
On transfers, Moyes added  "I think we would like to strengthen in a lot of areas, but we have an awful lot of attacking wide players, we are shorter of defensive cover now. We are also looking to see what positions will change, which could alter our direction. The owners have spent a lot of money over the last few years and I thought the way we spent it in January was relatively good. We will attempt to get players we think will be here for the long term and can develop.
"I think we need to make sure we have a group who understand West Ham."
In recent times West Ham have qualified for the Europa league twice
In 2015/2016 the Hammers qualified by winning the Premier League Fair Play table for 2014–15, West Ham qualified for the 2015–16 UEFA Europa League entering at the first qualifying round. In the first qualifying round, they were drawn against Andorran team Lusitanos. In the second qualifying round, West Ham were drawn against Maltese side Birkirkara, In the third qualifying round, West Ham drew Romanian side Astra Giurgiu who knocked them out of the competition.
West Ham United qualified for the 2016–17 UEFA Europa League after they finished seventh in the Premier League.
West Ham being drawn against Domžale of Slovenia,  The Hammers were drawn to play Romanian Liga I champions Astra Giurgiu in the play-off round. Astra eliminated West Ham from the same competition 12 months earlier in the third qualifying round 3–4 on aggregate and exited the competition for the second year running to the Romanian side.