David Moyes admits that he may have to "break" things at West Ham in order to fix them.
The Hammers are going for Champions League qualification and are also preparing for the fifth round of the FA Cup, with Southampton the opponents tomorrow night.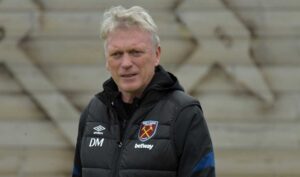 Moyes admits that the Irons are desperately trying to get better and keep challenging at the very top end of the Premier League table.
But he says that the club may have to "break" things within the squad in order to keep climbing and achieving their ambitions.
Speaking to reporters, he said: "I think by me talking about it already tells me that I am trying to get the balance right. I am not burying my head in the hand and thinking it is all about the next or where we finish.
"I am trying to see how I see West Ham growing and continue to make it better. It is my conversations in the future with the owners to see where we can take West Ham, what we are trying to do and what we are trying to achieve because everybody can have one good year. What we have to try and make sure we do now is have continued success.
"It will not always be an upward spiral and there will be times where you may need to break it to try and fix it to get it back to where you want to go and mend it. There are bits of that. we know we need to become stronger in many departments. Hopefully we can look to build on that for the future."