By Gonzo
West Ham manager David Moyes has revealed his plans for summer signing Maxwel Cornet. The £17m signing from Burnley has been missing in action since sustaining an injury against Wolves in October.
With the playing having returned to East London and training well, Moyesie has given us fans a glimpse of where he see's Cornet fitting in.
"I don't know about pecking order but, where I see him fitting in is that he can do a couple of roles. When you look back to how he played at Burnley, he played a couple of roles, he played almost alongside Wout Weghorst as another striker."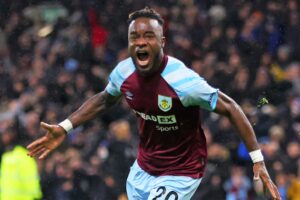 Moyes then went on to explain that striker may not be Cornet's best position at West Ham. "He's played quite often off the left – that's where I'd probably say he fits. He's tended to get more goals from wide, that was the reason we brought him in.
I'm thinking that if we could get this boy to get us eight or ten goals it would add to what the total would be. We obviously lost him early on. He was a bit behind when he came in because he hadn't trained at Burnley much before we signed him. That's where I see him, positionally, as where I see him playing." 
Confirmation if ever there was any that the Hammers manager intends to play Cornet in the Benrahma role.