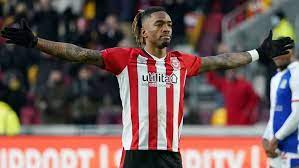 CandH Exclusive by Hughie Southon
West Ham boss David Moyes won't be moving for Brentford striker Ivan Toney as is being reported across various websites.
Toney has scored 12 goals for the Bees this season and the Hammers have been regularly linked with a player now being valued at an alleged £50 million after one Premier League season for a player who cost the Bees £5 million.
In fact the Hammers were the first club to have an opportunity of signing the 26 year old when he was offered to the club for £8 million by Peterborough United's director of football Barry Fry two years ago as a result of his former relationship with the Hammers owners as manager of Birmingham
David Moyes considered it too high a risk given his Division One status at the time and eventually he joined Brentford at around the same price in Ayguest of the same year.
Now after a decent first season in the Premier League reports claim that the Hammers, Newcastle and Arsenal are ready to move in.
But a Hammers source told us exclusively: "It won't happen as the manager has other targets at what he considers better value."