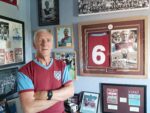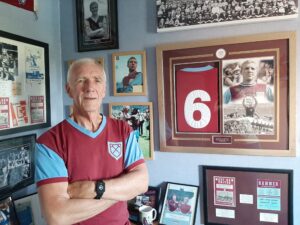 By CandH's top blogger Allen Cummings
It used to be the norm for managers playing away in Europe to approach any game with caution. Stay tight, keep compact, sit in, don't give anything away.
David Moyes had other ideas last night against Dinamo Zagreb. The opposite to 'norm' in fact! He set West Ham up to be positive – start on the front foot – go at Zagreb from the off! The reward was two goals on opposition soil and a performance ranking right up their with the best this club has seen in Europe.
It was another nail in the coffin of the once frequently aired accusation that Moyes is an over-cautious manager, more concerned with not conceding goals rather than scoring them.
An opinion that should now be well and truly confined to the rubbish bin. Like one or two other accusations aimed at him when he first came to the club in 2017 – and two years later when he again took over the reign at a critical time at the beginning of 2020. Moyes is taking great delight in proving those doubters wrong.
In fact since David Moyes returned to West Ham in January 2020 the Hammers are just one of four Premier League clubs to have scored 100 goals in the competition, along with Man City, Man Utd and Liverpool. That's quite a statistic – and an amazing achievement for Moyes and his players.
It's a particularly interesting stat given that much of the attention during the last transfer window was around the possible purchase of a striker – either to understudy Michail Antonio, or play alongside him in what would be a change in formation to the one that has been used so frequently by Moyes.
The fear was that Mickey's injury record being what it is, what would Moyes do for goals when Antonio wasn't in the side? Of those 100 goals scored under Moyes, Antonio has claimed 22 – nine in season 2019-20, 10 in 2020-21 and three so far this season. That means an awful lot of goals, 78 in fact, have come from elsewhere in the team.
Michail's recent red card means it's because of his indiscipline rather than his fitness, we are going to get the chance to see how the team will set-up to cope with his absence for the game against Manchester United. Of course Antonio gives the team far more than just goals! His strength, mobility and sheer presence causes opposing defences all kind of problems, and ultimately leads to goal-scoring opportunities for others.
That shouldn't and isn't underestimated. But with Pablo Fornals showing he's added a more clinical finishing aspect to his game, he's currently level with Mickey on three Premier League goals each, and Said Benrahma having now found the way to the net, Jarrod Bowen always a threat and with Nikola Vlasic, no slouch in front of goal himself – are we worrying too much?
Has Moyes got this under control – the way he has proved before over the last 18 months? He has admitted his search for a striker will continue, but he's prepared to wait until he can get the right man and the right fit for the team. In the meantime he will go with what he's got. With the strength and character now running right through this side, is it wise to bet against that goals tally continuing to go ticking along?