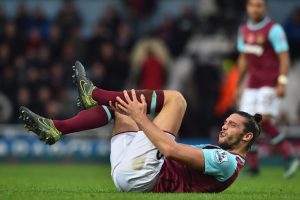 Here's the perfect example of how footballers should perhaps let their feet (or maybe head in this case) do the talking.
Only on Friday Andy Carroll was talking himself up as a World Cup possible after being mentioned once or twice by team-mates and the ever present media groupies.
Today he can do one of two things following the elbowing incidents at Burnley – two in as many minutes – and being roundly condemned by his boss and many fans on social media.
Here's a reminder of what Mr C had to say about the possibility of making the 'plane for Russia when it was put to him and my oh my how hollow it all sounds right now :
"It would be nice to be in the squad, it is nice to be spoken about in that way.
"All I have got to do is work hard and hopefully get the call but, at the minute, I am focused on getting fully fit here, scoring goals, and getting good results. If I deserve it, hopefully I will get the call."
"I am confident of what I can do and it is different to what they have got at the minute. I am fully confident of my ability.
"I am feeling good; I am feeling a lot sharper than I did at the beginning of the season, getting back fit. I have had a run of games. In training, I feel a lot sharper, not 100 per cent yet but I am getting there."