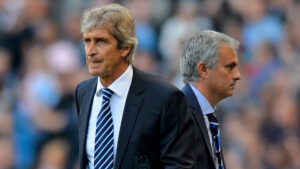 It's one of those games that couldn't be more crucial to both teams.
Jose Mourinho -with little time to prepare his new team will probably revert to his defensive mentality and will be happy with a draw – whilst Manuel Pellegrini needs to start silencing his doubters with a win.
It really does seem like 'Mr Cool' meets 'Mr Cocky' and no love is lost.
I have little doubt Pelle will be going for it but MUST get his team off to a fast start for once and hope that the team don't fall victim to some fact counter attacking otherwise, as often before, disaster will beckon.
Rice will be key in the middle, hopefully alongside Nobes, and Michail Antonio's return, at whatever stage it happens, is brilliant news.
Diop must improve after some unusually sloppy performances recently and hopefully Ogbonna will return and give  Roberto stronger cover than that provided by Balbuena.
It's still inconceivable to me that the Oggy was dropped in the first place. Hopefully the goalkeeper is ready to give us his best and restore some much needed confidence in him across the team.