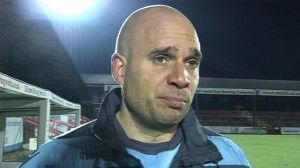 West Ham Under 21 Development manager Nick Haycock has left the club with immediate effect in mysterious circumstances.
The shock news was confirmed by the reliable @EXWHUEmployee on twitter this evening and has come as a surprise to many as he was a very popular figure at the club.
No reasons – official or unofficial – have been given for the departure of a coach who joined the club five years ago when he looked after the under 18s before stepping up to look after the under-21s three years later.
Speculation suggests  that Under 18 manager Steve Potts will step up into the U21 hot seat. Under 18 assistant manager Mark Phillips is rumoured to taking the Under 18 manager role.
Haycock was absent from the under 21 game against Norwich today which the Under 21's lost 1-0 after going down to ten men when Lewis Page was sent off early in the match.
Mystery surrounds  the reasons behind Nick's departure but Terry Westley will use the opportunity to make some changes in the set-up he inherited from Tony Carr