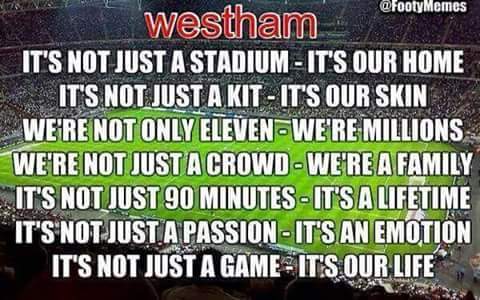 Trying to sum up what West Ham means to me and  I guess, most of you, is next door to impossible…the expression:" If you are not one of us you will never understand" came closest….until now.
I am always grateful for FB which I enjoy more than any other form of social media and from which I have learned a great deal down the years – notably how to tolerate and respond to many with whom I may disagree.
However, today it reached a new level for me when I spotted the image we reproduce here. As a result  I no longer have the problem of attempting to my nearest and dearest why you would change the wife before your football club!!!
Moaning and groaning goes with the territory – it's part of any love affair but here's the bottom line. West Ham is about far, far more than supporting a footbll club.
Hope you enjoy this because I certainly did.