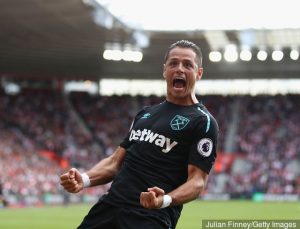 Chicharito had no need to explain his position but unsurprisingly chose to let us all know that he is looking for a new club and that it will  hopefully be back in Mexico.
As leaks go it wasn't the biggest in the world because it's been apparent via his body language almost since his arrival that he and West Ham have had what can best be described perhaps as an "indifferent" relationship.
He chose to make his revelation on on episode one of the You Tube series  Naked Humans which is an odd choice of outlet but so be it I guess – the news is out.
Speaking in English he said aming other things : "I have an agent in Mexico. I need someone to get me stuff in Mexico too but Lauren, Romain is working as a team with us. He is the one more involved.
He is Spanish so has more connections here. He's searching for a club, if we can move. If not I will stay with West Ham easy, happy. I have one year left, but West Ham and I have decided it would just be easier to go out."
With Perez gone and Hernandez on the outbound train the pressure is coming on more and more for striker replacements  and a Hernandez departure would make a massive difference on the wage bill where he is earning £130k a week.
Despite arriving as a "marquee" signing in 2017 he immediately lost favour under David Moyes and that Manuel Pellegrini is ready to let him leaves probably speak even louder.
He was expected to make an impression under the new boss but despite 15 league goals over two seasons was caught in a couple of controversial incidents and never became the fans' favourite some expected.
That he should be ready to reveal his plans so publicly is unlikely to help him should he fail to clinch a fifth move of his career.